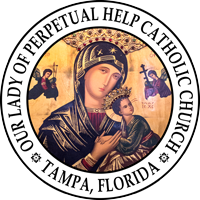 Online Giving contributions statements for 2015 have been mailed.
Thank you for helping OLPH! By doing so, you aid OLPH in helping to provide spiritual, educational and social service to parishioners and many others in need.
Acknowledgements of contributions made to OLPH in any other manner may be obtained from OLPH. To obtain a contribution statement from OLPH, please call the Rectory at (813) 248-5701 or email the request to olph@tampabay.rr.com.
Contribuciones en línea dando declaraciones para 2015 se han enviado por correo.
Gracias por ayudarnos a OLPH usted! Al hacerlo, te ayudará OLPH para ayudarnos a proporcionar servicio espiritual, educativa y social a los feligreses y muchos otros en necesidad.
Reconocimientos de las contribuciones hechas a OLPH de cualquier otra manera se pueden obtener de OLPH. Para obtener una carta contribución de OLPH, por favor llame a la Rectoría al (813) 248-5701 o por correo electrónico la solicitud a olph@tampabay.rr.com.