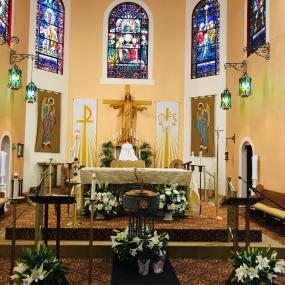 Dear OLPH family and friends,
May you and you and your families have had a wonderful Easter and are safe and healthy during these unprecedented times.
I celebrate daily Mass and, with a list of parishioners on the altar, include all of you in the intentions of the Mass – every day. OLPH, the church we all love, is still stunning, albeit uncommonly quiet, and my gaze falls upon empty pews.
So, let me see your face(s), please! Drop off or mail in a picture of you and your family so we can fill the pews once more!
The OLPH drive through will be open this Sunday, April 19th, from 8:30 am- 11:30 am.  Six feet social distancing will be practiced. We have gloves, masks and mechanical reachers.
Please stop by to drop off a photo. Please pick up a new missalette. The large print missalettes make it much easier to follow along while remotely viewing Sunday Mass.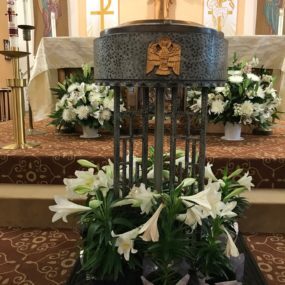 Any drop off contributions to Offertory would be MOST appreciated and secured in a locked box with Pastor only access.  Please use your Offertory envelopes, if possible.  Thank you!
If you have a spare photo, which is church appropriate (no swimmies, please 😊), to give to OLPH, we will use sensitive surface tape to affix the pictures to the pews. Please make sure your name is on the back of the image and that it is an image you can spare.
May the stay at home orders be adhered to and be successful so OLPH may once again open her doors and welcome you.
We look forward to seeing you. God bless!
Father Hector
Estimados amigos y familias de OLPH,
Deseo que usted y su familia hayan tenido una Pascua maravillosa y estén seguros y sanos durante estos tiempos sin precedentes en la historia.
Yo continuo celebrando la Santa Misa diariamente con una lista de feligreses en el altar que los incluye a todos ustedes. El templo de OLPH, la iglesia que amamos sigue siendo impresionante, aunque inusualmente tranquila, y mi mirada está fija en los bancos vacíos.
¡Así que, dejame ver tu cara o la de tus familiares queridos, por favor! ¡Trae o envía por correo una foto tuya y de tu familia para que podamos llenar los bancos una vez más!
Haremos un Misalito Drive-thru en el estacionamiento de OLPH. Este domingo, 19 de abril, de 8:30 am- 11:30 am. Mantendremos el "distanciamiento social" (6 pies) estipulado, al mismo tiempo que usaremos guantes, máscaras y alcances mecánicos para hacerle llegar el Misalito correspondiente al período de Pascua y Tiempo Ordinario (del 19 de abril hasta el 8 de agosto). La letra grande del Misalito, nos ayuda a seguir las lecturas correspondientes a cada Domingo, mientras disfrutamos de la Misa Dominical en Casa. Al mismo tiempo recogeremos la foto de usted y de su familia que nos quiera traer para pegarla a los bancos, de forma tal, que cada uno de ustedes y los miembros de su familia esté presente en la Santa Misa a través de la fotografía. No olvide agregar su nombre y el de sus familiares al reverso de la fotografía.
Sugerimos ser prudentes a la hora de traernos o enviar las fotos. Recordemos que serán usadas en la Iglesia. Por favor evite fotos no apropiadas.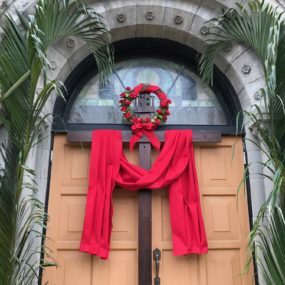 Agradecemos de antemano su comprensión y cooperación.
Aquellos hermanos y hermanas que deseen contribuir monetariamente con la Parroquia pueden hacerlo a través de sus sobres o moneda impresa. Ese día, tendremos una caja asegurada, a la cual solo yo tendré acceso, para depositar su contribución. Agradezcp de antemano cualquier contribución monetaria para el sostenimiento de nuestra Parroquia.
Recemos para que este tiempo de estancia en casa pase y que OLPH pueda abrir una vez más sus puertas y darle la bienvenida.
Esperamos verte. ¡Que Dios te bendiga!
Rev. Hector Cruz, SM