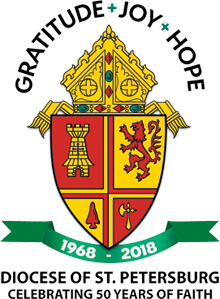 "The Family Faith Fest is a one-of-a-kind experience for families and adults of all ages that will bring together thousands of people from across Tampa Bay and West Central Florida. We hope you will join us on Saturday, October 27th from 10 AM to 6 PM for live music, food, exhibits, activities for children and teens, the celebration of Mass, shopping, health displays and much more. By joining together as one Body of Christ, we can all grow in faith and grow in unity!
This is a free event and open to all. Free entertainment. Free parking. So bring your family, bring your friends, bring your church and school and stay for the day! Food and gift items will be available for purchase.
This event is organized by the Catholic Diocese of St. Petersburg in recognition of their 50th anniversary. The Diocese has been so blessed by the generosity and love of this community and we are celebrating with our first ever region-wide festival! All are welcome to celebrate with us the tremendous blessings that God has brought into our lives. Join us as we remember the past with gratitude, celebrate the present with joy and look to the future with hope.
Diocese of St. Petersburg
The Diocese of St. Petersburg is comprised of over 470,000 Catholics and includes 74 parishes, 7 missions, 48 schools and early childhood centers, a university, and a variety of social service, health care, housing and pastoral ministries located within the five counties of Hillsborough, Pinellas, Pasco, Hernando and Citrus. Mass is celebrated in 11 languages and we are led by our fifth bishop, Most Reverend Gregory Parkes who was installed on January 4, 2017."
From: https://familyfaithfest.org/about/ on August 10, 2018