We have all these things so, if you would like a blessed palm on Palm Sunday, please stop by OLPH's Palm Drive Through this Sunday, from 8:30 am to 11:30 am.  Six feet social distancing will be practiced.  We would love to see you from a distance! (See text located below map for feedback from the Diocese regarding a palm drive-through.)
Any drop off contributions to Offertory would be MOST appreciated and secured in a locked box with Pastor only access.  Please use your Offertory envelopes, if possible.  Thank you!
Tenemos todas estas cosas, así que si desea una palma bendecida el Domingo de Ramos, pase por Palm Drive de OLPH hasta este domingo, de 8:30 a.m. a 11:30 a.m. Se practicarán seis pies de distancia social. ! ¡Nos encantaría verte desde la distancia!  (Consulte el texto que se encuentra debajo del mapa para obtener comentarios de la Diócesis con respecto a un drive-through de palma).
Cualquier contribución de entrega a Offertory sería MÁS apreciada y asegurada en una caja cerrada con acceso exclusivo para el Pastor. Utilice sus sobres de ofertorio, si es posible. ¡Gracias!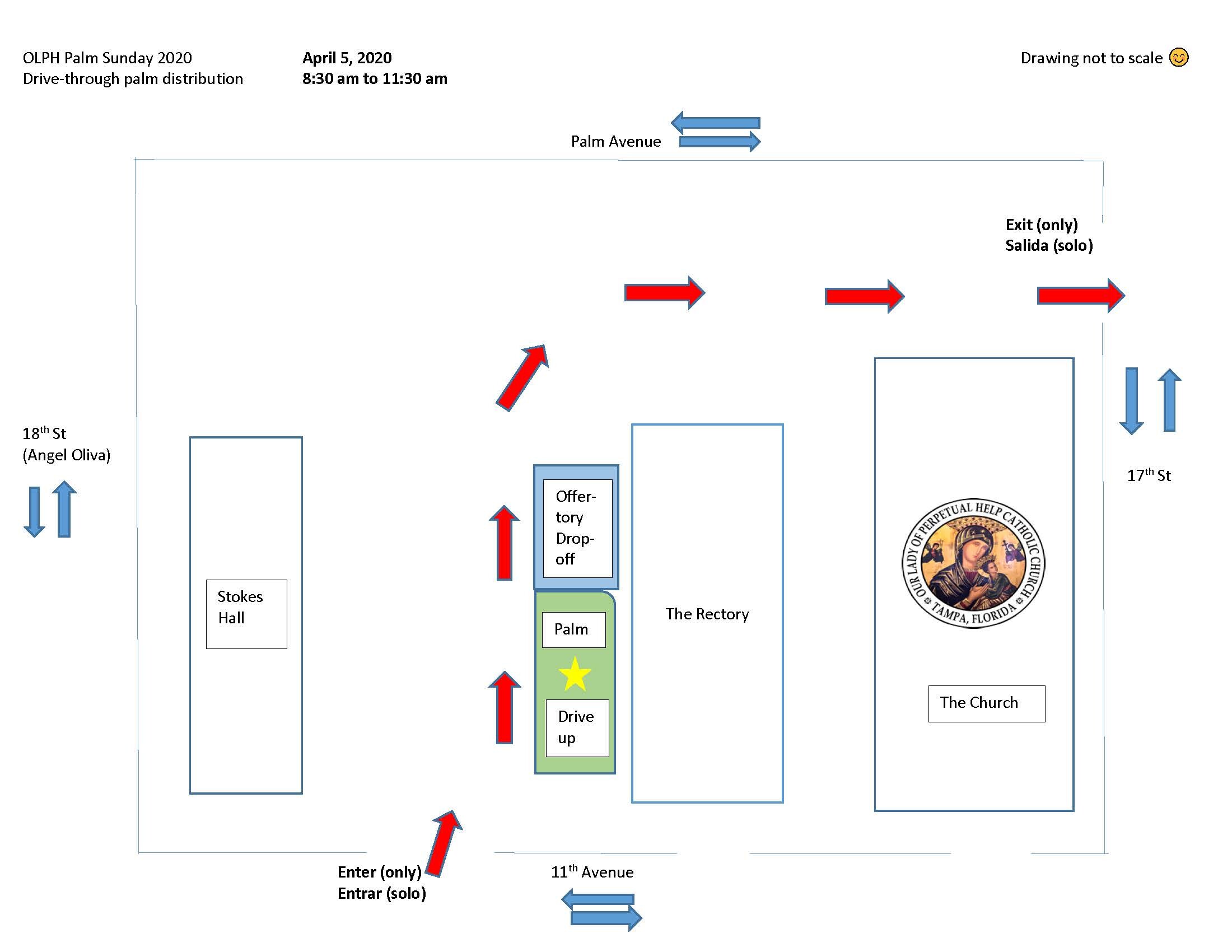 Information from the Diocese of St. Petersburg
 "Good afternoon, Monsignors and Fathers.
 Please see the following Coronavirus Update for Pastors for today (4/1/2020):
 Gov. DeSantis' Executive Order for "Stay at Home" Mandate  – Earlier this afternoon, Governor Ron DeSantis issued a mandate via executive order, for Floridians to "stay at home" with the exception of utilizing "essential services."  Several pastors and parish staff members have already inquired as to whether this will affect parish offices and churches.  After an initial discussion of the matter, Bishop Parkes has indicated that he will continue to evaluate the order, but since religious organizations fall under the category of "essential services," there will be no changes in the Diocese of St. Petersburg at this time.  With regard to the distribution of palms on the weekend of April 4-5, the order does not impact this practice, as long as parishioners do not congregate in groups of greater than 10 persons.  As long as palms are distributed by means of a "drive-through" arrangement, there would be no risk of violating the state mandate."
Información de la diócesis de San Petersburg
"Buenas tardes, monseñores y padres.
Consulte la siguiente actualización de Coronavirus para pastores de hoy (4/1/2020):
Orden ejecutiva del gobernador DeSantis para el mandato de "quedarse en casa" – A principios de esta tarde, el gobernador Ron DeSantis emitió un mandato por orden ejecutiva, para que los floridanos "se queden en casa" con la excepción de la utilización de "servicios esenciales". Varios pastores y miembros del personal de la parroquia ya han preguntado si esto afectará las oficinas parroquiales y las iglesias. Después de una discusión inicial sobre el asunto, el obispo Parkes ha indicado que continuará evaluando la orden, pero dado que las organizaciones religiosas entran en la categoría de "servicios esenciales", no habrá cambios en la Diócesis de San Petersburgo en este momento. . Con respecto a la distribución de palmeras el fin de semana del 4 al 5 de abril, la orden no afecta esta práctica, siempre y cuando los feligreses no se congreguen en grupos de más de 10 personas. Mientras las palmas se distribuyan por medio de un acuerdo de "conducción", no habrá riesgo de violar el mandato del estado ".