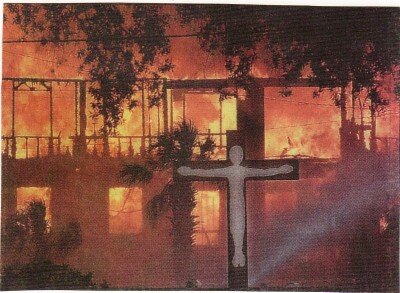 By JANIS D. FROELICH of The Tampa Tribune
YBOR CITY – Wearing a blue ball cap, the Rev. Thomas Stokes stood in the sun watching waves of heat and smoke moving precariously close to the church compound he knows so well.
Stokes, across the street from the sanctuary of Our Lady of Perpetual Help Roman Catholic Church, could not believe how fast the flames spread.
"It's absolutely astonishing," he said.
At 9:15 Friday morning, Stokes was ordered by fire officials to evacuate his rectory at 1711 E. 11th Ave.
Within minutes, the fire next door at The Park at Ybor City construction site was threatening the parish hall.
Flames shot up a slope, burning grass after leaving a row of six skinny palm trees looking like sticks of licorice.
The fire was stopped within a few feet of the parish hall, which was saved along with the rectory next door by firefighters who soaked the buildings with arcs of water from nearby fire trucks.
Stokes has served at this 100-year-old parish the past 14 years.
The stuccoed parish hall, closest to the danger, was built two years ago on a site where the church's parochial school operated until 1975. The school building was razed in 1991.
The church's sandy brick sanctuary, built 63 years ago, was safely away from the flames.
"There's no danger for the church," Stokes said quietly. "But the parish hall will have to be evaluated."
Within an hour, Don Brasier, director of insurance for the Diocese of St. Petersburg, walked the church grounds, clipboard in hand.
"The palm trees are toast," he said quickly. "And there's probably smoke damage in the parish hall. I don't know about the roof."
Brasier walked into the parish hall and was pleased to see tables and chairs intact and no visible water damage in the ceiling. Smoke drifted out the just- opened doors.
Inez Fiol, a parishioner for 50-plus years, left her teaching job at Mendenhall Elementary School to check on the church.
"Inez, not too bad at all!" yelled Stokes, who joined her in the parish hall.
"Good, good, Father," she replied.
Home to 400 parish households, Our Lady of Perpetual Help was once among the largest parishes on the west coast of Florida. As late as the 1960s, it had 5,500 parishioners.
The church used to have a convent, but it has been converted into a diocesan retreat and is now called the Cursillo Center.
Once a stronghold for Tampa Latins, the church had nine priests as recently as 1968. Today there are three, said Stokes.
No longer among decaying buildings, the church is surrounded by urban renewal such as the bright Hilton Garden Inn.
"I thought for a while we'd have to start all over again raising funds for the parish hall," said Mary Greco, enjoying a cool lunch at nearby La Tropicana. Greco, a distant cousin of Tampa Mayor Dick Greco, is a church volunteer.
She added, "I think we're very fortunate."
Janis Froelich covers Hillsborough County and can be reached at (813) 885-5437 or jfroelich@tampatrib.com