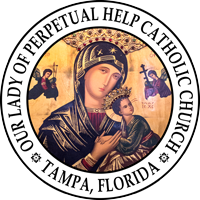 A MESSAGE FROM OUR LADY OF PERPETUAL HELP
THE OFFICE IS CLOSED UNTIL FURTHER NOTICE DUE TO HURRICANE IRMA.
PLEASE NOTE, THERE WILL BE NO MASSES THIS WEEKEND AND INTO THE WEEK.
WE WILL UPDATE SOMETIME DURING THE FOLLOWING WEEK ABOUT FUTURE MASS SCHEDULES.
LA OFICINA ESTARA CERRADA POR AHORA A CAUSA DEL HURACAN IRMA; LE AVISAREMOS CUANDO ABRIRA DE NUEVO.
TAMBIEN, POR ESTE FIN DE SEMANA Y PARTE DE LA SEMANA PROXIMA NO HABRAN MISAS.
LE AVISAREMOS CUANDO COMENZARAN LAS MISAS TAN PRONTO SEA POSIBLE DURANTE LA PROXIMA SEMANA.
GOD BLESS AND ALL STAY SAFE.